For two ecstatic weeks, Bean thought they were going to live in a pet house. Her parents had mentioned the words many times. With smiles and whispers, they behaved as if they had a secret, a surprise—for her.
If they were going to live in a pet house, the surprise must be a dog. Yes! Bean carefully packed her books for the move from the big house in Perth to the pet house in Sydney, savouring a daydream in which all sorts of dogs bounded out of a box and ran to lick her hand. What kind of a dog would it be? If it was a big pet house, maybe she could have two dogs!


'A pet house?' laughed her mother. 'Oh Bean, you funny thing! Not a pet house, a penthouse.'
'What's a penthouse?' asked Bean in a small dull voice. She could feel the happiness sliding down like an egg smashed against a wall.
'It's the very top floor of a block of apartments. Your father has built a magnificent block in Sydney, where our apartment is the highest, most private and secure of all, with the best view of the harbour. It's wonderful, Bean, it really is!'
'Can I have a dog?' asked Bean, very glum.
'No, no, no. We're not going through all that again,' sighed her mother.







---
Our tale begins


When Bean's family moves to a new apartment block, the Blue Boat, right on Sydney Harbour, no one has time for Bean. It's coming up to Christmas but her mother, Dido, a floral stylist is in great demand for society parties, and her dad, Warwick is dashing off in his helicopter, negotiating the final delicate stages of a huge deal. Bean is left alone, save for a procession of repairmen, weird baby sitters from Dial-an-Angel, and her faithful toys. What she really wants is a dog. The Blue Boat may have state-of-the-art security, but there's something very strange about the clumsy security guard, Mr Gerard Fogglight. Bean is sure she's seen him somewhere before. Now, if she had a dog everything would be different…


Fogglight was inspired by Gérard Depardieu. Bean imagined him as an Irish wolfhound-Pyrenean mastiff cross, with a bit of basset.


Bean's toys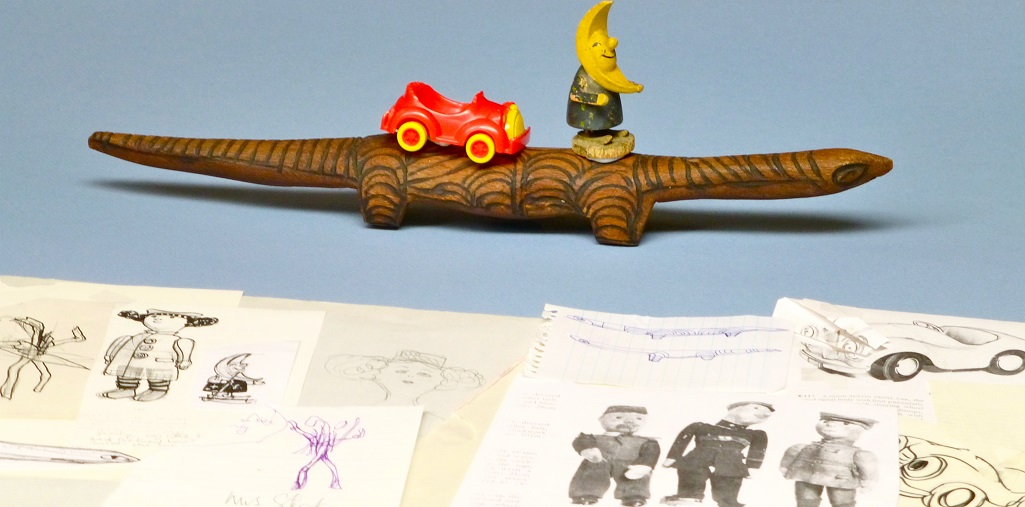 Moon Man (found at Portobello Road down the junk end, made in Germany) Mrs Sticks was imagined, Emma Feezal (inspired by WW1 doll in an auction catalogue) Wax Mon, (50's pedal car in auction catalogue, and plastic toy) and Mr Lizard (from NT. There's that May Gibbs influence again!)
---
How Feezal came about

I have May Gibbs to thank, in part, for this book. I first came to know Sydney as a working city, rather than a tourist destination, during the battle to save May Gibbs' house, Nutcote. It all began innocently enough on a picnic with author, Christobel Mattingley, at the Adelaide Arts Festival. Christobel told me Nutcote, which May Gibbs had built with the proceeds from Snugglepot and Cuddlepie, on prime real estate in Neutral Bay, was threatened with development. The more I learned about May Gibbs and Nutcote, the more passionate I became. On no account should that little house be turned into apartments. It was important to the history of Australian children's books, environmental conservation, architecture and social history.



The Society of Book Illustrators in Melbourne formed the Nutcote Trust Victorian Action Group, and joined with groups in other states in the long, frustrating, time- consuming saga. Our houses were strewn with boxes of Nutcote stuff. (The gallery, Books Illustrated, had a bath full of fridge magnets!) I co-curator a large May Gibbs exhibition at the Westpac Gallery, in the Arts Centre, Melbourne, and by the time Nutcote was officially saved we'd made many friends. That's how I came to know and love the seductive Emerald City, and why Dido is fascinated by Australian flora, and influenced by May Gibbs.



Illustrators drew postcards for Nutcote. Anything to make a dollar.

The other person with a bearing on this book, was our friend from Swinburne Art School days, Richard Lowe, in London.

When I visited schools at that time, the picture book Princess Beatrice and the Rotten Robber was the only book I'd actually written, so I was reading it again and again. I imagined it as a film, perfect for Richard to art direct. He would have made it so funny. He lined up a film producer friend and we discussed the possibilities. It was decided that it might have a chance, if it was set in the present. I spoke to Rosalind and she said 'It will have to be written. You may as well write the story.'

A modern story set in Australia? It would have to be in voluptuous Sydney. Who would be the king? (Bond? Packer? Murdock? A powerful business man?) And the queen? (younger, loves flowers) And the little princess? What would she collect? What's the modern equivalent of a castle with a drawbridge? And the most intriguing question - who would the robber be, and how would he get in? I reinvented the story from the picture book in a different genre, but maintained a link. It was my first book written in third person and instead of a tribe of kids, as in previous books, I was dealing with a frustrated but very determined little girl.







The illustrations


I drew dogs that could be people, and people that could be dogs, and researched motorbikes, the Blue Mountains, startling new apartment blocks, big business and powerful men. Each chapter heading had a small illustration to keep you going (as a kid I looked forward to the next picture, no matter how simple it was), and for the first time I had shiny foil printed on the cover, a strip along the bottom, which was very exciting.


The black dog, question mark, and skyline were in foil.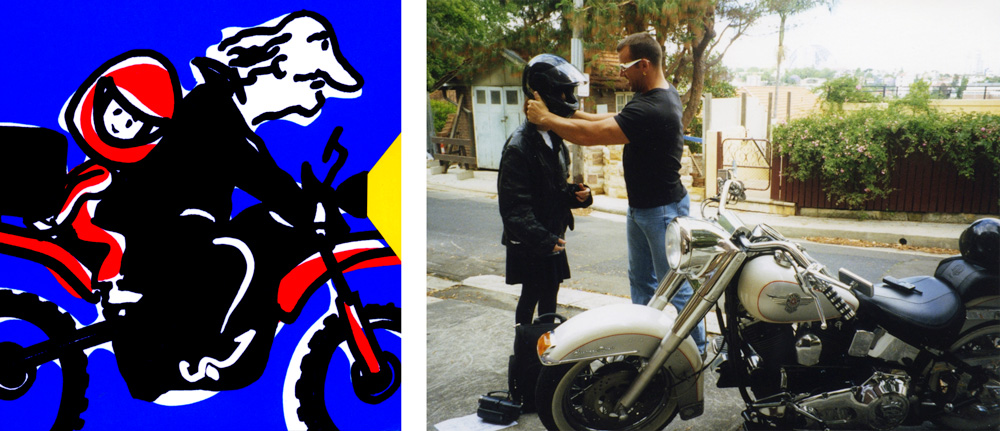 The book was launched at Plunkett Street Public School in Woollomooloo, and I rode there on the back of a Harley Davidson, roaring across Sydney Harbour Bridge just like Bean and Fogglight. That's Nutcote in the background.
---
Bean treads the boards


Feezal was staged by RMIT Union Arts in 1999, adapted and directed by Lynne Ellis, and at the end Bean got not one dog, but two! There was a competition for wonderpants, and all the entries were pegged up on a clothes line strung across the foyer.

Those wonderful wonderpants

The wonderpants were a hit. I saw many an original pair in my travels. Here are some from Jen's class at Hawthorn West.

---
Meeting the creators of Emma Weetal


In Amsterdam in 2011, we met Thille Dop, publisher at Moon, and Annet Schaap, the fabulous illustrator whose loose, funny drawings give life to the Dutch editions. The other person who contributed was the translator, Sabine Mutsaers.


Here is Annet's beautiful view of Sydney Harbour on the Dutch cover.

---

The name Feezal?

The book had many titles, including The Tale of Bean Merrier and The Blue Boat, but eventually we settled on What do you think, Feezal? because it was odd and strangely quaint. Emma Feezal was actually a race horse. If we had included Emma in the title it would have made it too long, so we dropped it.