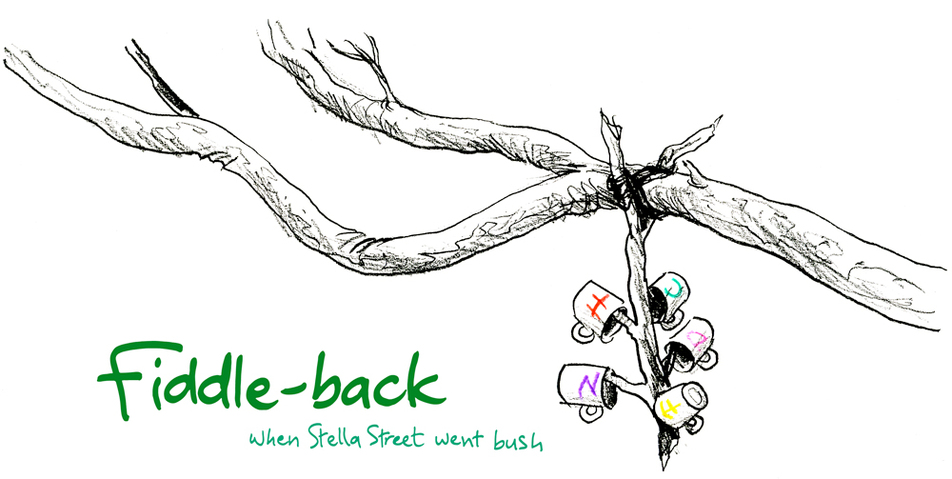 So we set off: five kids, seven adults, one dog and tons of food, PLUS hundreds of last-minute can't-possibly-survive-without-this things wedged into every tiny space. (I had the Monopoly digging into my neck, Danielle had a bag of ripe apricots that kept escaping over her shoulder, and Frank had Briquette under his feet.)
We stopped for a picnic. Danielle had a fight with Frank, so we all got back into our own cars—until we stopped for an icy pole, then we all got into different cars again.
We followed Old Jim's map through the last town and on for twenty kilometres. Then we did a right-hand turn off the bitumen, onto a dirt track. We bumped and bounced along, with the track getting rougher and rougher, until every bone in our bodies felt disengaged.
'Hope this is worth it,' said Dad.
'Hope the car doesn't fall to bits,' said Frank.
'Hope I don't fall to bits,' said Danielle.
'Hope Donna's all right,' said Mum.
'Well, it was her idea in the first place,' said Dad. 'She wanted to get back to nature. Well, this is nature. Now keep your eyes open for the gate.'


Our little convoy wound slowly down into the valley, lurching over rocks and tussocks. Wattles brushed the side of the car and once we had to drag a big branch off the track.
'How will we know we're there?' asked Danielle.
The cars strained up a steep slope eased over the top, then on the other side the bush opened out dramatically. We knew this was the spot.
No doubt about it.

We drove down into the grassy clearing. Through the ancient river gums we could see a wide curve of sparkling river, glittering in the sun as it flowed over rocks.
'Oh man!'
'Cool!'
'Magnificent!' said Rob.
We looked around.
'Just magnificent!'
'Absolutely magnificent!'
'Stop saying magnificent and help me out of this car,' said Donna.
But that's how it felt. Magnificent.
Rob tried his mobile phone. Nothing. The outside world was gone.
'I think we've driven into a wilderness poster,' said Zev.
Then as we all scrambled out, there came this creepy Crreeeeiiiiiiiiiicraaaaaasheshsh!!!! A mighty branch thudded down from one of the gums by the river.
'Well, if that's how you feel, we'll go!' said Danielle.
'Why did it do that?' asked Cass.
'When the load becomes too great for the tree to support, they drop a branch,' said Sue.
'Look it up in What Branch falling down is That?' said Rob.
'Don't put your tent under a tree,' said Mum.
It was a strong reminder that we were in a wild place, so two minutes after arriving we got the 'wild place' lecture, which included snakes, going off on your own, sunscreen, drinking plenty of water, etc., etc., etc., etc., etc., etc.,
'Can we drink water straight from the river, like animals?' asked Cass.
'Well, if the water up here is polluted, we're in real trouble,' said Dad.
'This is absolutely so cool,' said Danielle doing a handstand.
'You wanted mini-golf and trampolines!' said Dad.
'Fab-ee-you-lus!'
'I'm going for a swim.'
---
Before I begin, I can't tell you where Danielle hid, but it was a real hiding place, a brilliant hiding place, and if the book ever becomes a movie - then you'll find out.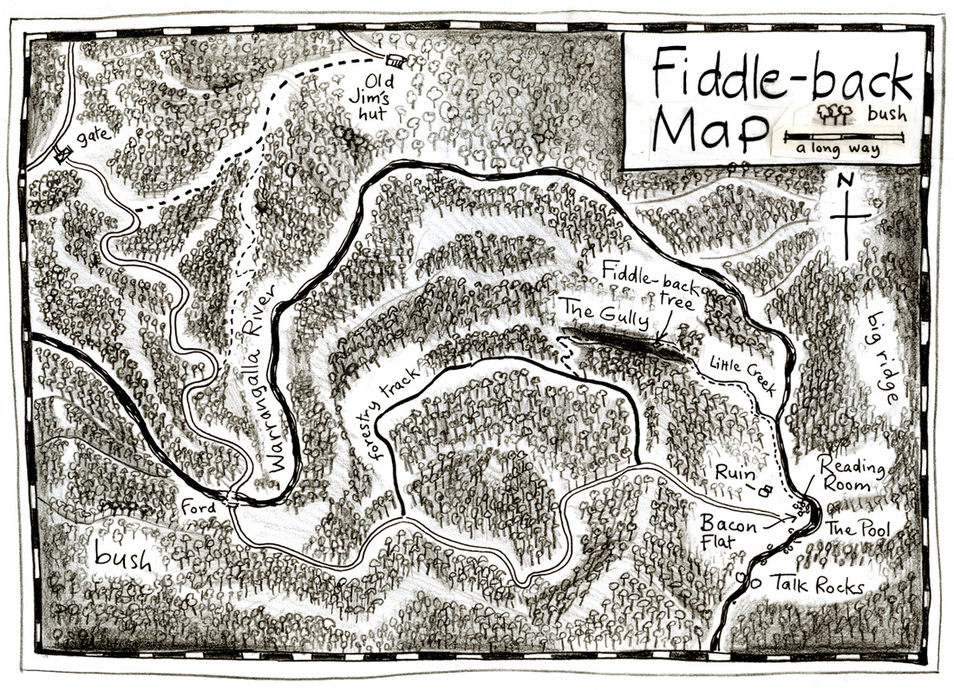 A map makes a story feel more real. You can see how it all fits together. As a child I loved the maps in Winnie the Pooh and Millie Mollie Mandy has a lovely map, which makes the story even more comforting. Fiddle-back's map is a rough bush map. The land is important in the story.
A holiday in a book

Camping is glorious freedom. No clocks. No phones. No time-tables. No have-tos. No be-theres. No have-you-done-its. No cars. No traffic. No dashing. Away from the world, fresh air, animals and birds, talking, singing, getting hungry, mucking around on the river. Play. Families together. Time. Everyone pleasing themselves. No worries about being too clean. The stars above, the noises in the night. When you wake up in the morning everyone's in a good mood and the fire's going and you cook toast and slather it with butter and raspberry jam and the whole lazy day stretches ahead of you. Not everyone can go camping, but hopefully in Fiddle-back you feel like you're on holiday.

Stella Street was a success, but sequels can be disappointing and I had other stories I wanted to tell. Next came a picture book then two novels. But letters kept coming from readers asking Was Donna's baby a boy or a girl? What happened to the Phonies? Please write another book! So I'd been thinking about it for some time before Henni sat down at the computer again. It was to tell what happened in the holidays, when they went camping in the bush. The setting was inspirational, and I knew it well, because along with three other families, we'd gone camping every year, after Christmas, and we'd discovered that perfect camping spot on a bend in a river, exactly as it is in the story. Everyone who went on those holidays recognises many details in the story.

---
Pop Bango

What you see here is a game the kids invented on holiday in the NT, called Pop Bango. Everyone does a handstand in the water, making different shapes with their legs in the air. The Caller shouts out the action and whoever does the best one becomes the Caller. Demonstrating are my and Alison Lester's families standing on their hands in the river and doing "chopsticks".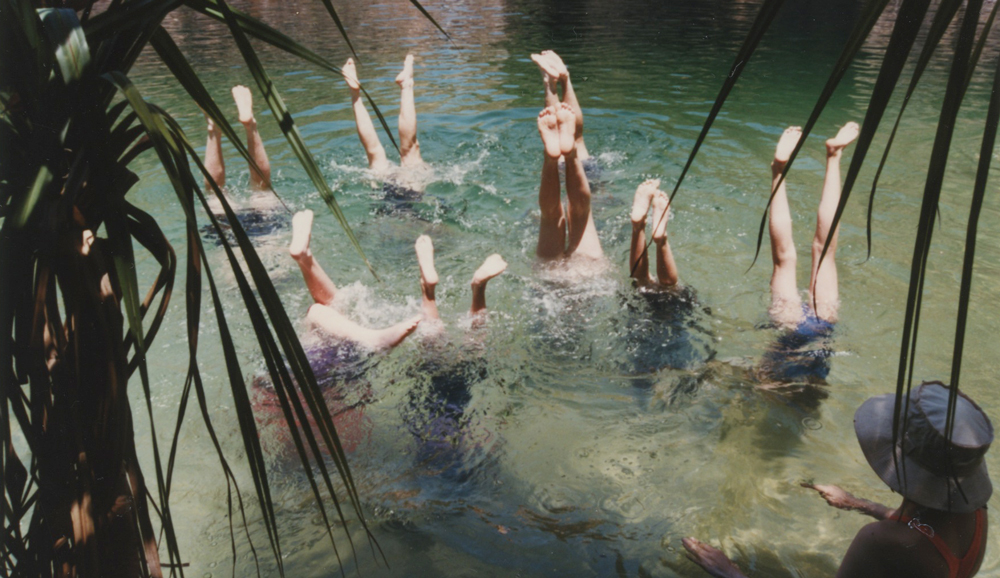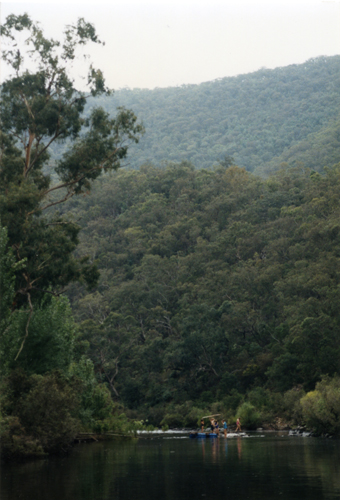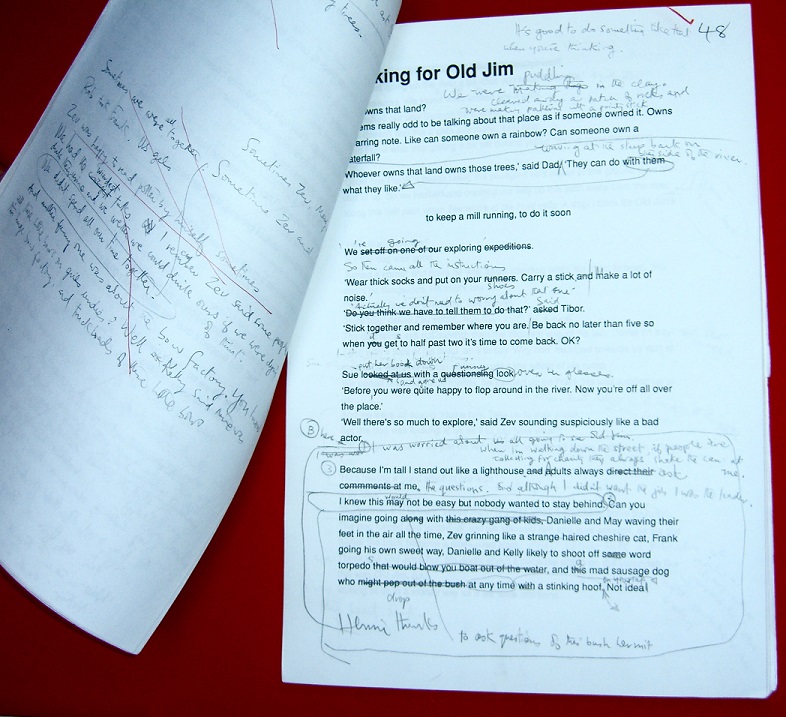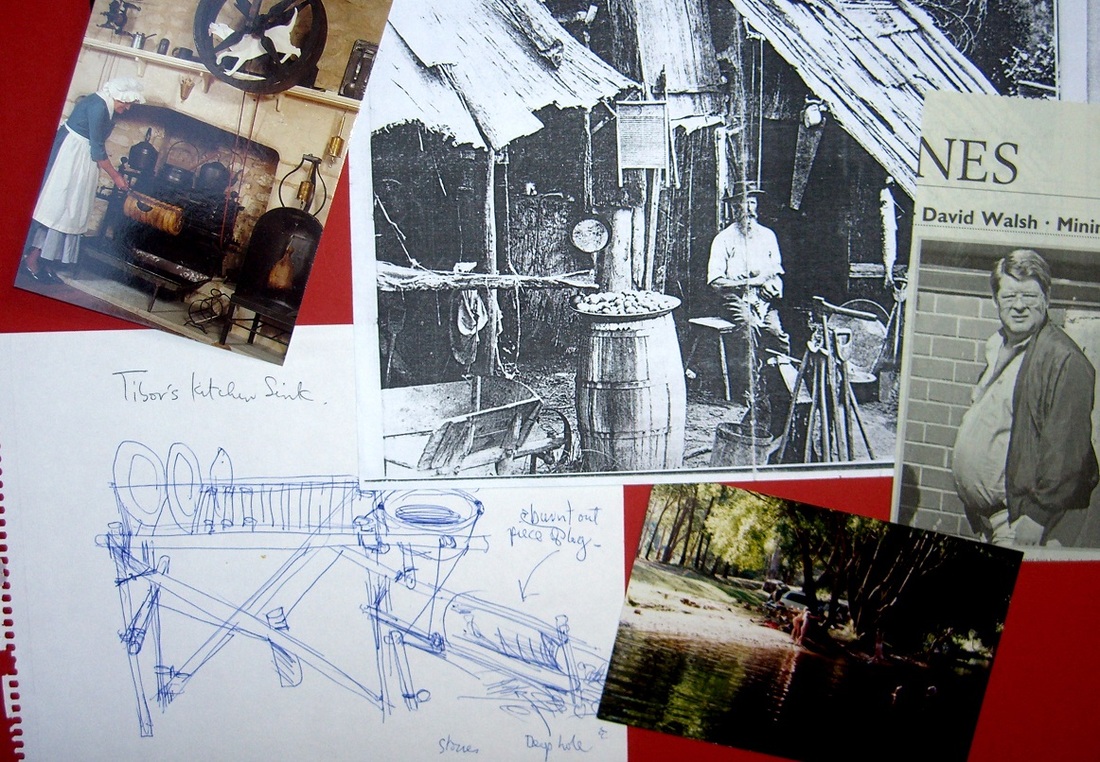 ---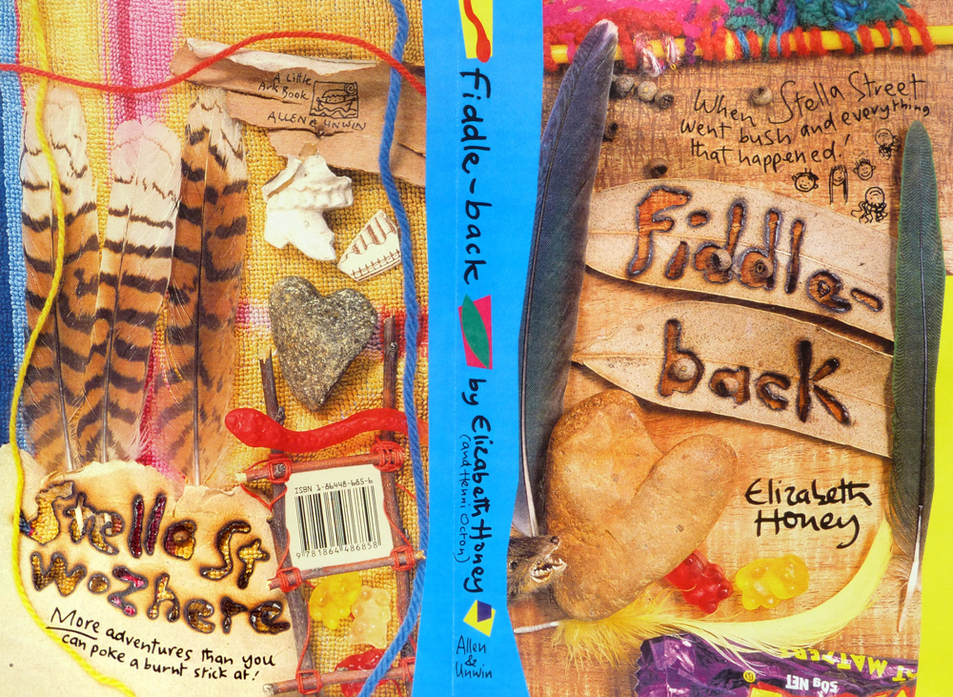 This is the cover of the first edition, made up of carefully arranged treasures which we photographed. They haven't been photo-shopped because we didn't know how to do that at the time. Typeface: Magnifying glass 'n' Sun