We weren't there and we didn't see it but Old Auntie Lillie's place suddenly had the guts ripped out of it. At the front the house still had the same lovely old face but the back part, the little porch, the kitchen, the bathroom, the laundry―gone!
We couldn't believe our eyes. Zev's hair stood up even more on end.

Who was going to live in 45?


| | |
| --- | --- |
| | "This is a whirlwind of an adventure told by me, Henni Octon, writer-to-be. Here's my version of what Stella Street—Zev, Danielle, Frank and Briquette the dog and everyone else—what we did when The Phonies moved into our street and started to spoil everything. It was funny and fast, and very scary and we never knew what was going to happen next!" |




Facts


Published by Allen & Unwin in 1995

19 years in print.

Buy Now

Audio Book

Teacher's Notes to come

Illustrations and papers are held in the Lu Rees Archives
of Australian Childrens's Literature Inc
---
Background to the Book

The Idea

Not that long ago a family could be a whole, home-grown gang of kids, but today families are smaller. As a child, I loved Enid Blyton's The Famous Five - Julian, Dick, Anne, George and Timmy the dog - on ripping adventures doing pretty much as they pleased, somewhere outdoors, a cove, an island, a moor. I'd thought of a story about a gang of kids. Stella Street is the collection of ideas, observations and notes that came together after the success of Honey Sandwich. With Rosalind Price as publisher and editor I felt bold enough to try a novel.



We're surrounded by stories of people doing horrible things to each other, but many families are strong and enjoy life. They go through ups and downs but basically they stick together. Stella Street is about people who belong: to a family, a gang, a neighbourhood, a pet. I wanted to write about kids who were open and robust, ingenious, tenacious and funny. And a dog, Briquette. Dogs have joie de vivre, they're unpredictable and bring you down to earth. And satisfying baddies. Roald Dahl's baddies are deliciously loathsome. And an exciting, action-packed plot. And a happy ending, not in a Disneyland way, an Australian way.


Writing

I'd never written a novel before and like most writers with their first book, I just did it as best I could, writing in biro on any paper to hand, then typed the pieces into the laptop, shuffling, adding and polishing in a random fashion. It was a dog's breakfast. Page numbers were all over the place. What a relief when it was first printed out! There were eight drafts in the end, the last one shorter, as I slashed out the boring bits.

To help with plotting I read a book on writing screenplays, Story by Robert McKee. It reminded me of what was important. Some of the story I had already, but ideas lurked, feelings swirled. The story welled up, then started to roll, and images and ideas attached themselves to it like filings to a magnet.

I asked several reader-friends for constructive criticism, and Anna, aged 12, wrote such a thoughtful, touching note that when Rosalind read it, she said without hesitation, 'Let's use it for the blurb.'


The Design

I thought Henni's handmade, scruffy, dog-eared notebook might look like this: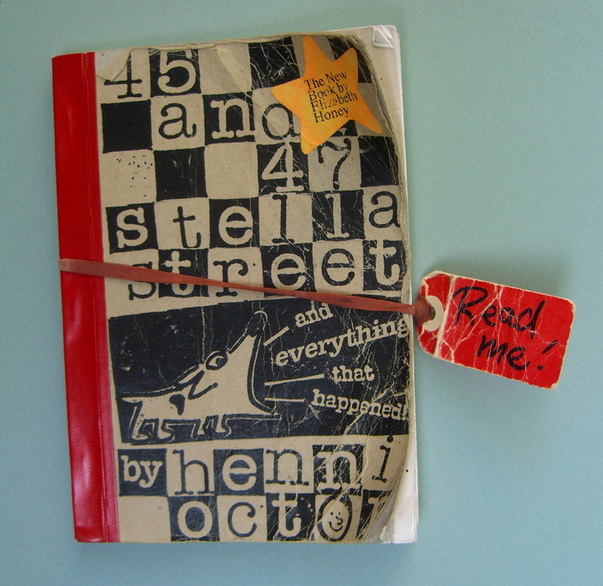 Would people would buy something so worn?

It would have been expensive to mass produce. Finally the title page was adapted for the cover. It did look different from other books, with the story starting on the front cover, but it was a normal book. It's hard to break from the standard paper sizes and binding methods.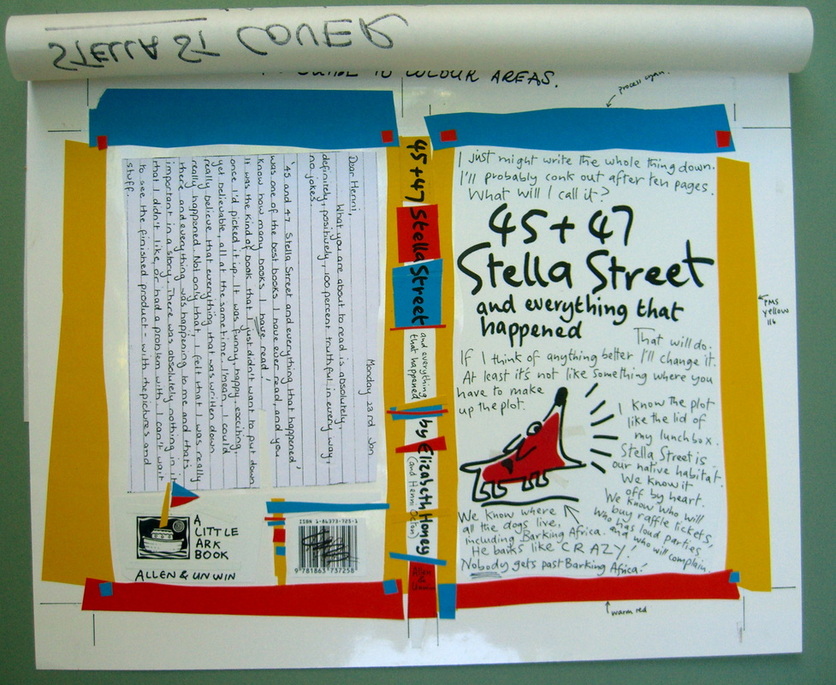 ---
Q & A

Where did the name Henni come from?

In 'To The Boy in Berlin', Leo asks this very question and here's Henni's answer:

"I got the name Henni when I was little. I fell in a drain and one of my favourite books was about Hendrika, a Dutch cow who fell in a canal. So, while they were trying to rescue me my parents joked and called me Hendrika which turned into Henni. Danielle calls my room Henhenge, and my friend Zev calls me Hendecahedron or Hentathlon or Henultimate, and Dad used to call me Hunda-bun-buncher, which came from Hun from Hen and my English teacher Miss Daikin calls me Henrahen. But most people call me Henni."

Has Stella Street ever been adapted?

Yes, it was adapted for the stage by Lynne Ellis for the Kaleide RMIT Union Theatre in January 1998



How did Zev get his electric hair?

Our bodies generate electricity and some, like Zev, make more than others. When he combs his hair, he is charging it and the more plastic the comb, the greater the zap. You should see the spray of sparks when he uses his ebonite comb! Besides, it's fun drawing hair standing up on end.


Can you pick the languages?